׳Boker Or׳ interview @ Channel 10
Have you ever thought about what it means to pick up an entire country in order to rescue someone really close to your heart – through the social media?
In A Pro Bono project, we managed to get almost 20,000 people out of their houses to get a bone marrow donation to Roni Cohen, a very good friend of Shany, the CEO of brainnu, which had Leukemia and was required to make an immediate Bone marrow transplant.
Interview @ Laisha Magazin
In the special Rosh Hashanah (Jewish New Year) issue, Shany was asked to tell more ׳Behind the Scene׳ on the pro-bono campaign to save the life of Roni Cohen, her close friend, who had Leukemia right before her wedding event, at the age of 27.
Interview @ Yediot Newspaper
The Multi-Talent Woman Project
In the modern labor market more and more young women find that one career is not enough, and they find themselves running an independent business, earning a living as a saleswoman in commercial companies, and working as freelancers during "leisure" hours.
Three workaholics who have done this, reveal all the secrets and tips for those who want to adopt such a way of life and become a true multi talent, of your own. 
Elementor Meetup, 17.07.19

The different points of encounter with different customers require you to tell each time a different exciting story with a different angle, interesting point of view and a unique value proposition.
Bring it on and sew your brand a shiny suit by using Visual approach in the center of your digital storytelling.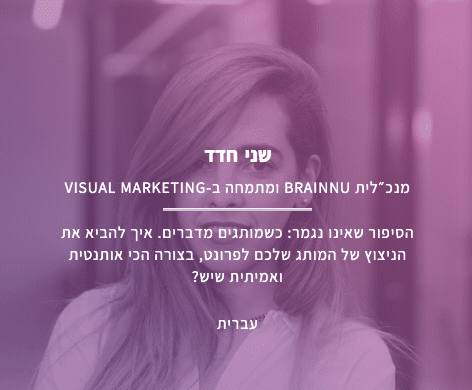 Press 4 Word Conference, 12.09.19
The Neverending Story: When Brands start to speak. 
How to bring the spark of your brand to the front, in the most authentic and real way possible. 
Do you have an idea and need good advice? At ׳The Morning coffee club׳ project you will find entrepreneurs and professionals to set up a coffee meeting in the real world in order to get it all done. 
Shany, brainnu CEO, develops and markets business from casual start-ups to digital products in the field of e-commerce, Lifestyle and Technology. She experienced many possible pains and today she focuses in consulting and business development businesses, based on her personal experience and professional knowledge.