Brainnu making the headlines
An interview ׳Boker Or׳ @ Channel 10
When a pro-bono social media campaign manages to get over 20,000 people to line up and put a stick in their mouth in order to save life, that's what we call newsworthy! Our CEO, Shany Hadad, talks about the massive campaign we ran to save Roni Cohen, a girl who was diagnosed with Leukemia right before her wedding.
An interview @ L'isha magazine
SAVE_RONI campaign created a huge buzz, and of course, everybody wanted a piece of it:) Women magazine "L'isha" asked for all the deets…
An interview @ Yediot newspaper
The multi-talent women project
Modern women are awesome, we've already established that. And yet, some women are extra awesome:)

Yediot Ahronot newspaper asked our CEO, Shany Hadad and two other women who juggle three different careers successfully, what and how they do it. Teach us, maestro!
Elementor meetup, 17.07.19

Every woman's nightmare: finding out someone else is wearing the same dress as you at an event. We aspire to be original and unique. To be "the first" and "the only ones". Our secret- always think 'visual first'.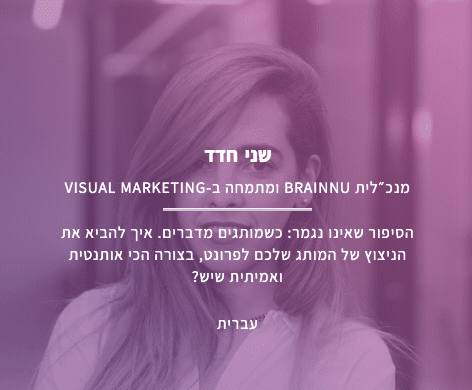 Press 4 Word conference, 12.09.19
Storytelling is a subtle art. It's the ability to find just the right angle, the right point view and the right words and tone to leverage feelings and turn them into pure marketing gold. So how do you go about that? We shared the answer with the audience at this one of it's kind convention.
The Morning Coffee Club initiative
You have the idea, you have the ambition but still not sure where to begin? At our    ׳ Morning coffee club׳ project you can book a 30 minutes coffee appointment with pro entrepreneurs and professionals who can give you some pointers, free of charge. Our way of giving back and creating some good karma:)