Brainnu making the headlines
An article at @ walla news
We all had it pretty rough with COVID-19 putting us on hold, but the ones who took the biggest hit are of course, businesses. In this special interview, Shany, our CEO, explains how we made it through the crazy, and where the next Brainnu branch will be established. Hint: There will be lots of Sushi 😉
When it comes to career, which weighs more – years of experience, or the courage to just give it a shot? 
Shany, our CEO, only had her ambitious attitude and buckets of courage when she first started her own business, at the age of 26.
And her answer? Right in this article > 
An article at @ Calcalist
Some things are worth creating a fuss over, which is exactly what we did for the mentoring program of the MIT Enterprise Forum of Israel- a social media challenge that went a long way. 35K Mentions, to be more accurate. So what did the Calcalist had to say about it?
Ever wondered what our food, plants and even toys will look like in the future? We definitely have, and we decided it was time to share our wild vision with the rest of the world. Proudly introducing our project: the first ever AI museum. Where future technology and art come together, to create something unimaginably better. And it's all over the news too:)
When the big banner gets banned
An article at @ walla news
Coca Cola, Pepsico, Ben & Jerry's, The North Face and other giant brands have all announced a boycut on Facebook. And when a bunch of massive advertisers get pissed, even Mark Zuckerberg  can't help rethinking his policy. How will this all drama end? Our CEO has an educated guess >
The right way to create an effective employer branding

An article at @ all marketing
One of the new and booming trends in recent years is employer branding, which is in other words- the way to build a better relationship with your employees, inspire, motivate and nurture their pride in their workplace. And of course- seem more attractive to quality prospects. So how is it really done? Check out this article >
In this Webinar, which was made in collaboration with the Israel Internet Association (ISOC-IL), our CEO tells the story of telling a story- and how to use this superpower to attract interest and business opportunities like you're gravity. Check out the full video >
An interview ׳Boker Or׳ @ Channel 10
When a pro-bono social media campaign manages to get over 20,000 people to line up and put a stick in their mouth in order to save a life, that's what we call newsworthy! Our CEO, Shany Hadad, talks about the massive campaign we ran to save Roni Cohen, a girl who was diagnosed with Leukemia right before her wedding.
An interview @ L'isha magazine
SAVE_RONI campaign created a huge buzz, and of course, everybody wanted a piece of it:) Women magazine "L'isha" asked for all the deets…
An interview @ Yediot newspaper
The multi-talent women project
Modern women are awesome, we've already established that. And yet, some women are extra awesome:) Yediot Ahronot newspaper asked our CEO, Shany Hadad and two other women who juggle three different careers successfully, what and how they do it. Teach us, maestro!
Elementor meetup, 17.07.19

Every woman's nightmare: finding out someone else is wearing the same dress as you at an event. We aspire to be original and unique. To be "the first" and "the only ones". Our secret- always think 'visual first'.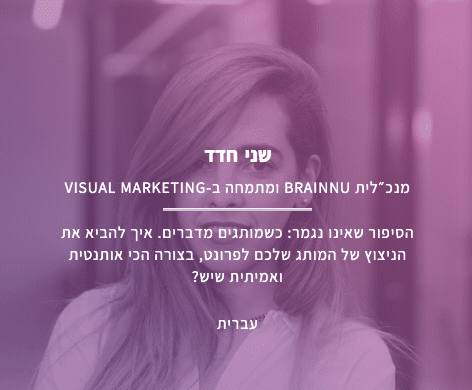 Press 4 Word conference, 12.09.19
Storytelling is a subtle art. It's the ability to find just the right angle, the right point view and the right words and tone to leverage feelings and turn them into pure marketing gold. So how do you go about that? We shared the answer with the audience at this one of it's kind convention.
The Morning Coffee Club initiative
You have the idea, you have the ambition but still not sure where to begin? At our    ׳ Morning coffee club׳ project you can book a 30 minutes coffee appointment with pro entrepreneurs and professionals who can give you some pointers, free of charge. Our way of giving back and creating some good karma:)